Regular price
$17.99
Sale price
$17.50
Unit price
per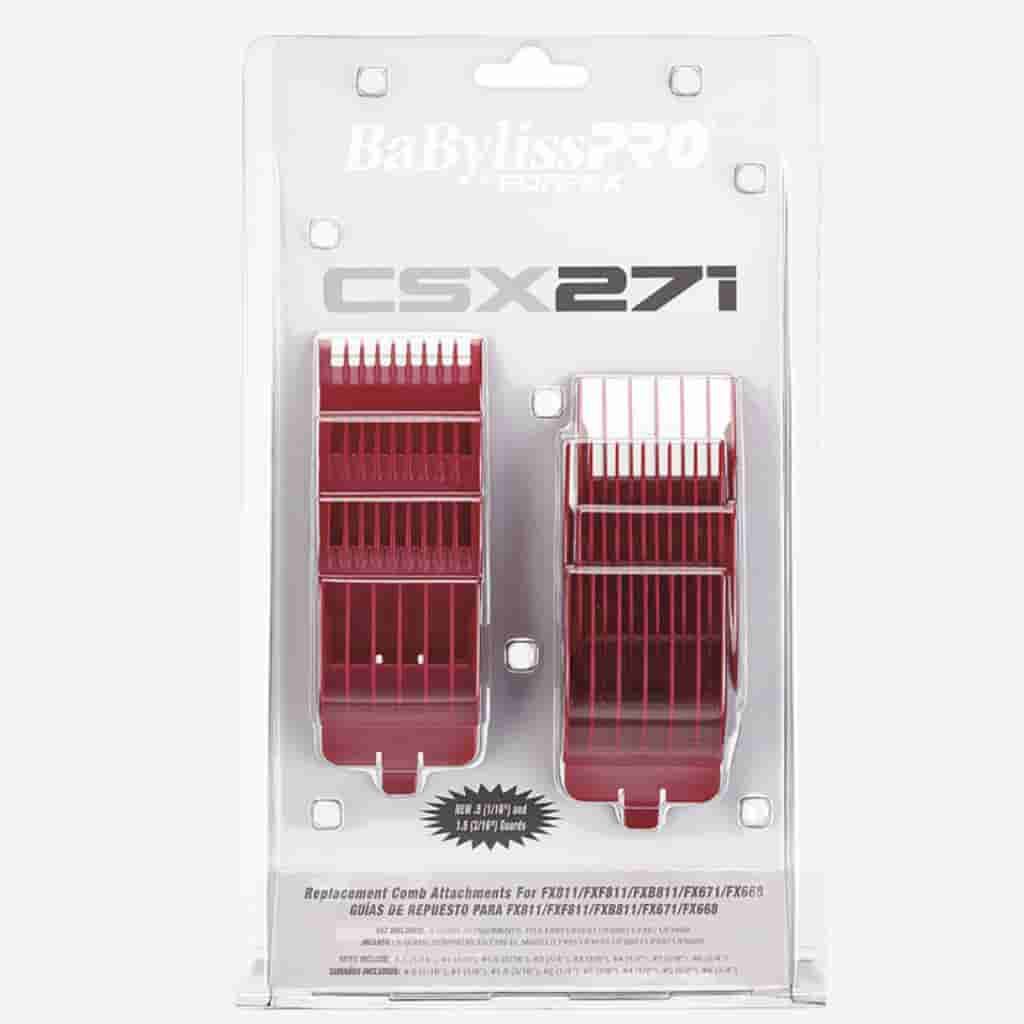 Premium Clipper Guards
Introducing the BaBylissPRO® Red Comb Set, a collection meticulously designed for all 811 models, FX668, and FX671. This premium set, with its vibrant red color, offers unparalleled functionality and style, making it an indispensable accessory for professional stylists and grooming enthusiasts seeking precision and versatility.
Key Features:
Premium Quality: Constructed with high-grade, resilient materials, these combs promise durability and reliability, even with frequent, professional use.

Optimized Compatibility: Tailor-made for all 811 models, FX668, and FX671 BaBylissPRO® trimmers, ensuring a seamless and secure fit for optimal performance.

Precision and Detailing: Designed to facilitate accurate and detailed styling, enabling barbers and stylists to deliver impeccable, salon-quality results.

Assorted Sizes: This set encompasses a range of comb sizes to accommodate varied styling needs, allowing for maximum creativity and flexibility in haircutting and shaping.

Striking Aesthetic: The distinctive red color not only adds a touch of style but also allows for easy identification amongst your grooming tools.

User-Friendly Maintenance: Easy to clean and maintain, these combs ensure sustained hygiene and longevity.
Usage Instructions:
Choose the correct comb size based on the desired style and length.
Attach the comb securely to the compatible BaBylissPRO® trimmer.
Begin styling, using even strokes to achieve a flawless look.
After use, detach the comb and clean it thoroughly before storing.
Conclusion:
The BaBylissPRO® Red Comb Set is a professional-grade accessory, designed to elevate the styling experience for users of 811 models, FX668, and FX671. Its high-quality construction, varied sizes, and striking red color make it a stylish and functional addition to any grooming toolkit. Whether you are a professional barber or a home user passionate about grooming, this comb set is designed to meet your styling needs, allowing for precision, versatility, and impeccable results.
Features & Benefits
Set includes 8 red comb attachments
Fits FXF811
Size includes #1 (1/8″), #1.5 (3/16″), #2 (1/4″), #3 (3/8″), #4 (1/2″), #5 (5/8″), #6 (3/4″)
If you are a business this products is available at wholesale price.
CLICK HERE