Regular price
$21.11
Sale price
$14.90
Unit price
per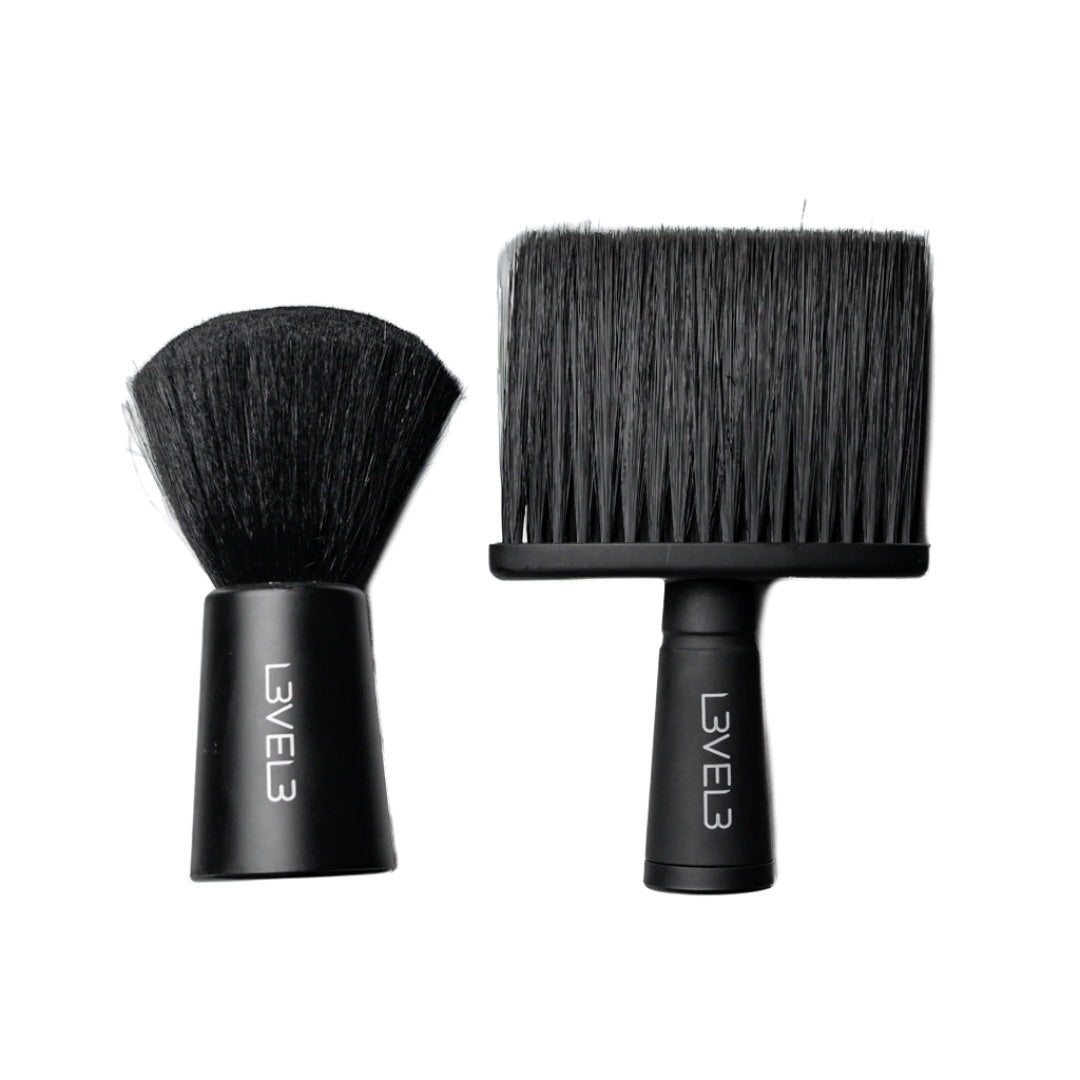 Professional Barber Neck Duster Set
L3VEL3 Neck Brush Set – 2 Pack
Our professional neck duster brushes are soft, efficient, and easy to sanitize.

The final touch to any haircut involves swishing away loose hairs from your client's neck. Doing so gives a clean finish, reveals the precision of your handiwork, and shows your impeccable attention to detail. To gently remove all traces of loose hair, choose our neck brush set. Each brush is crafted for quality, longevity, and efficiency – and with two in the set, you get great value too. Featuring heavy-duty, all-resin handles and super-soft, non-irritating bristles, these dusters get the job done and elevate your service.

Key Features

Super-soft bristles remove all stray hairs post-cut without irritating the skin
Heavy-duty, all-resin handles are durable, water-resistant, and easy to sanitize
Ergonomically designed to fit comfortably in your hand with good grip
Stable, stand-up bases so there's no need to buy a separate holder
Superior quality at a modest price point with two brushes in the pack
Why It's a Game-Changer
You've crafted the perfect hairstyle, now it's time to clean up and show off. These neck brushes will dust off all the loose hairs from your client's neck and face, allowing your work to shine. Durable handles combined with soft bristles get this intricate task done in seconds. Your client will leave with a smooth neck and a lot of respect for your pro service.

Starting with the bristles, they're ultra-soft and densely-packed on each neck dusting brush. This cuts down on brushing time and also prevents your client's skin from getting scratched or irritated. Choose the fat brush for larger areas and clean sweeps. Get into awkward areas with more precision using the corners of the paintbrush-style duster. When you've finished sweeping, you can stand the brushes on your station without the need for a holder.

Every aspect of these barber neck dusters is superior. The handles are made from resin, which outperforms traditional wooden handles on several levels. Resin is stronger and more durable, with excellent water-resistance – great when your hands are wet or greasy with product. Resin is also easier to keep clean, which is crucial when the brushes are touching multiple clients a day. Finally, the handles are easy to grip and comfortable to hold, so you'll enjoy using these brushes even when your hands are tired after a long day.

To give your clients that extra level of service - and make a delicate task infinitely easier - choose our neck brush set. These brushes deliver superior quality and efficiency at a great-value price, making them a no-brainer investment for your business.

Dimensions: Set includes a 5" brush and a 6" brush.  

How to Use:

Make smooth sweeps over your client's neck
The soft, dense bristles will remove any loose hairs
Be sure to sanitize your brushes after each use
Works Great With…
Our Rubber Neck Cutting Cape will catch the majority of loose hair, so you'll only need to do a quick sweep post-cut. The cape protects against bleach, dyes, and other hairdressing chemicals too. To keep that style looking fresh, finish with a blast of L3VEL3 Hair Spray. It gives natural, non-sticky hold and a sheen so bright you'll need your sunglasses.
If you are a business this product is available at wholesale prices. CLICK HERE