Regular price
$14.99
Sale price
$11.00
Unit price
per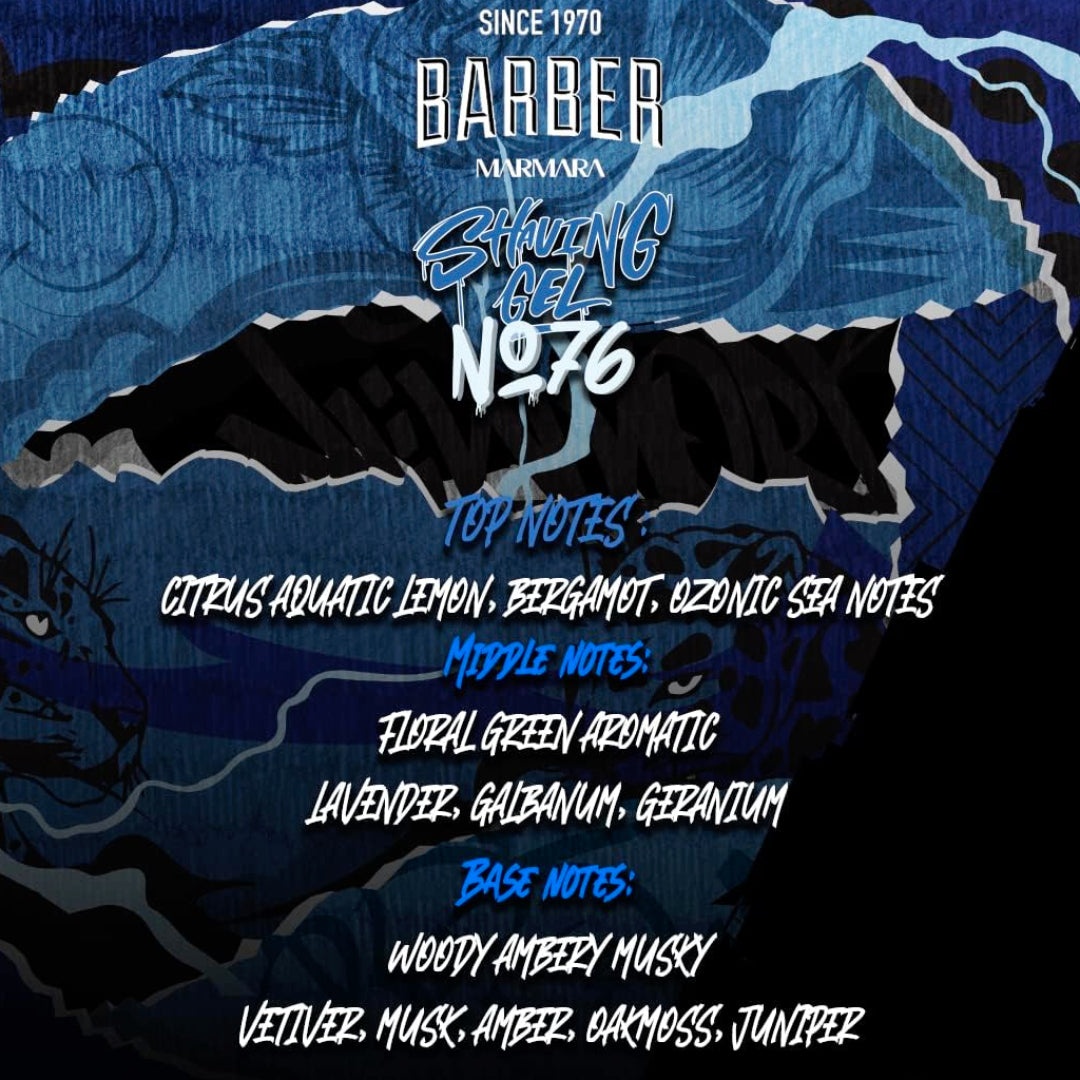 Shaving Gel Pump
500ml 16.9oz
Introducing Barber Marmara Shaving Gel No. 76 – a revolution in men's grooming. Crafted with precision and keeping the modern man in mind, this luxurious 500 ml shaving gel is designed to elevate the daily shaving experience to something extraordinary.
Perfect Glide, Perfect Shave: Formulated with a unique blend of moisturizing ingredients, Barber Marmara Shaving Gel No. 76 ensures a smooth glide of the razor across your skin, reducing nicks and irritation. Whether you're sporting a well-groomed beard or going for a clean-shaven look, this gel creates a rich lather that allows for a precise shave.
Invigorating Scent: Infused with a subtle blend of masculine aromas, the scent is both invigorating and soothing, making your morning shave something to look forward to.
Skin-Nourishing Ingredients: Rich in natural botanicals and essential oils, Barber Marmara Shaving Gel No. 76 moisturizes and nourishes the skin. It leaves your face feeling fresh, soft, and hydrated long after you've put down the razor.
Easy Application: The generous 500 ml bottle comes with a convenient pump for easy dispensing. Just a small amount is enough for a full, rich lather, meaning this bottle offers great value for regular users.
Ideal for All Skin Types: Specially formulated to suit all skin types, including sensitive skin, this shaving gel is free from harsh chemicals and artificial fragrances. It's a barber's quality shave from the comfort of your home.
Usage Instructions:
Wet your face with warm water.
Apply a small amount of Barber Marmara Shaving Gel No. 76 onto your hands.
Massage it into your beard, creating a lather.
Shave as usual, rinsing the blade often.
Rinse your face with cold water to close pores, and pat dry.
Experience the Difference: Join the ranks of well-groomed men who trust Barber Marmara Shaving Gel No. 76 for their daily shaving ritual. The perfect blend of style, luxury, and practicality awaits you in this elegant 500 ml bottle.
Order Barber Marmara Shaving Gel No. 76 today and elevate your shaving game to the next level. Your face will thank you!
If you are a business this product is available at wholesale prices,
 Contact Here