Regular price
Sale price
$6.49
Unit price
per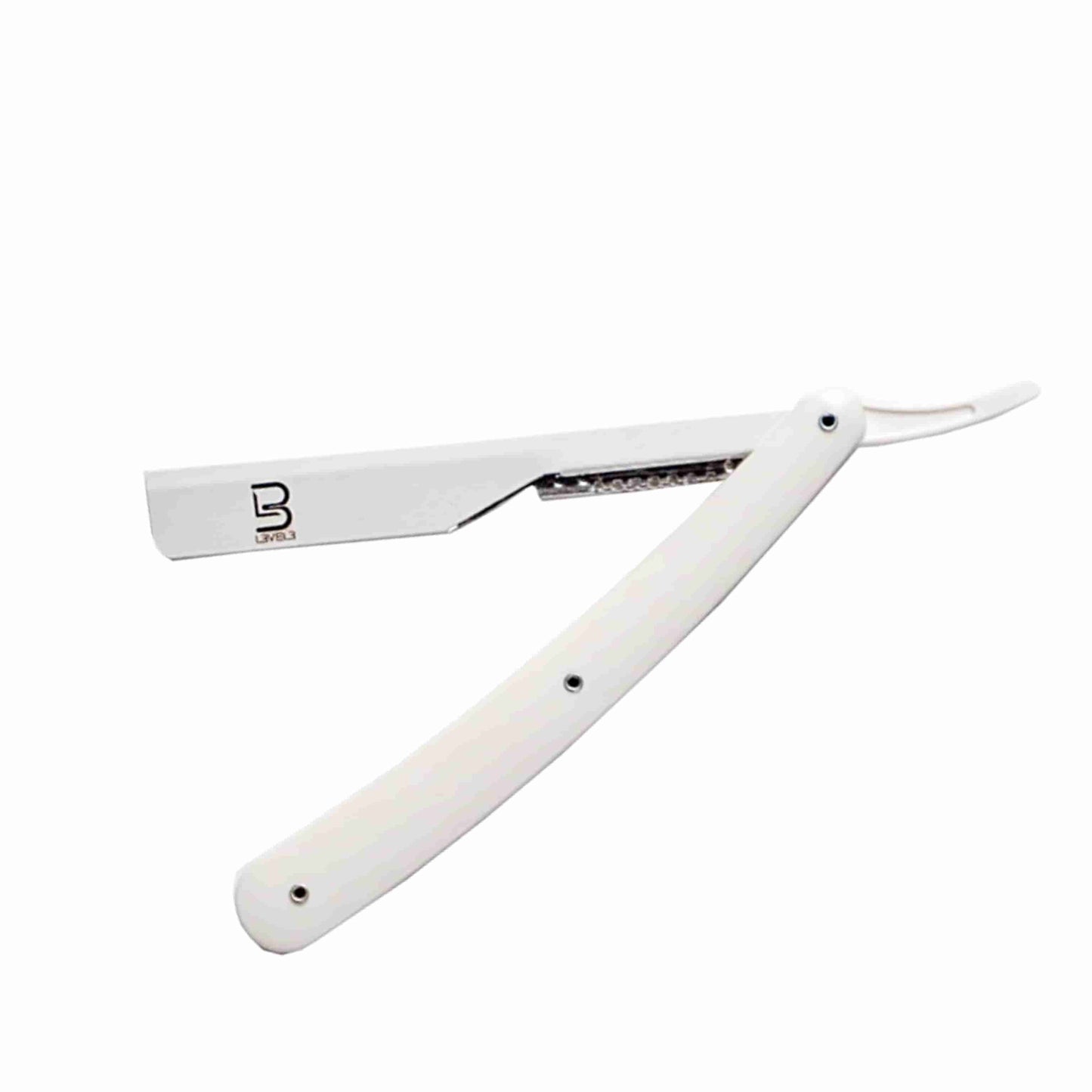 L3VEL3 STRAIGHT RAZOR HOLDER | White
Play it straight with our innovative, edgy-looking barber razor holder.


Shaving with a double-edge blade needn't be a risky task that produces unpredictable results. Not with L3VEL3 anyways, as we've dropped a uniquely efficient product that combines innovative design with a splash of personality.
Offering enhanced control for optimal precision and a flawless finish, our straight razor holder performs as dope as it looks. It enables a closer, smoother shave via a slim, stainless steel body and a hard-wearing, easy-grip plastic handle. And with a choice of vibrant colors, this razor holder puts your style on the trending list along with your skills.

Key Features

Smartly designed for precise, safe shaving and flawless results
Body crafted from anodized stainless steel for durability and style
The plastic handle features three rivets for sturdiness and a longer lifespan
Slimline and lightweight, making it comfortable to use and easy to control
Comes in a choice of popping colors to match your vibe and set you apart
Why It's a Game-Changer
Shave faster, closer, and safer with our straight-edge razor blade holder. It's a true innovator, designed to give you more control for perfect results. Precision is this razor holder's mantra; every cut is clean and close, ensuring a flawless finish on the face and scalp.
It's also a style icon, flaunting sleek looks and show-stopping color. Functionality and form? That's only the beginning of your journey into Better Shaving.

The body of our folding razor blade holder is of anodized stainless steel. This enables you to cut smoothly while also ensuring the durability of the piece.
The slimline profile lets you get up close to the skin and see every stroke of the blade. That's precision and safety in the bag, so you can relax. Changing blades is easy too, which is a bonus when your schedule is packed but your goal is top-notch service.

On to the handle of our cutthroat razor, which is made of robust plastic. The handle is easy to grip even during intricate detail work, so there's no loss of control or risk of slippage.
Three rivets spaced evenly apart boost the handle's sturdiness, durability, and longevity. In short, you get high performance and great value. You're welcome.

When it comes to style, choose your fighter. This straight razor holder comes in six vibrant colors because you needn't sacrifice your personality for professionalism.
Boasting functionality that optimizes every shave and design that'll become your signature, this razor holder will take your service to the highest level.


Dimensions: 9.5" L fully extended and 0.25" thick.
Available colors: ivory, ebony, pink, red, green, blue.

How to Use

Open out the folding handle
Insert a straight-edge razor blade into the holder
Get to work shaving facial hair and epic hair art designs
If you are a business this product is available at wholesale prices, Contact Here